A Cultural Landscape Entrusted to the University of Oregon
The Shire, designed by the Pacific Northwest Architect John Yeon, was gifted in the trust of the University of Oregon. It is a landscape designed as a picturesque garden situated in the sublime Columbia River Gorge. The design is meant to lead you visually through the landscape, on grass mown and mulch paths, to have an experience while walking.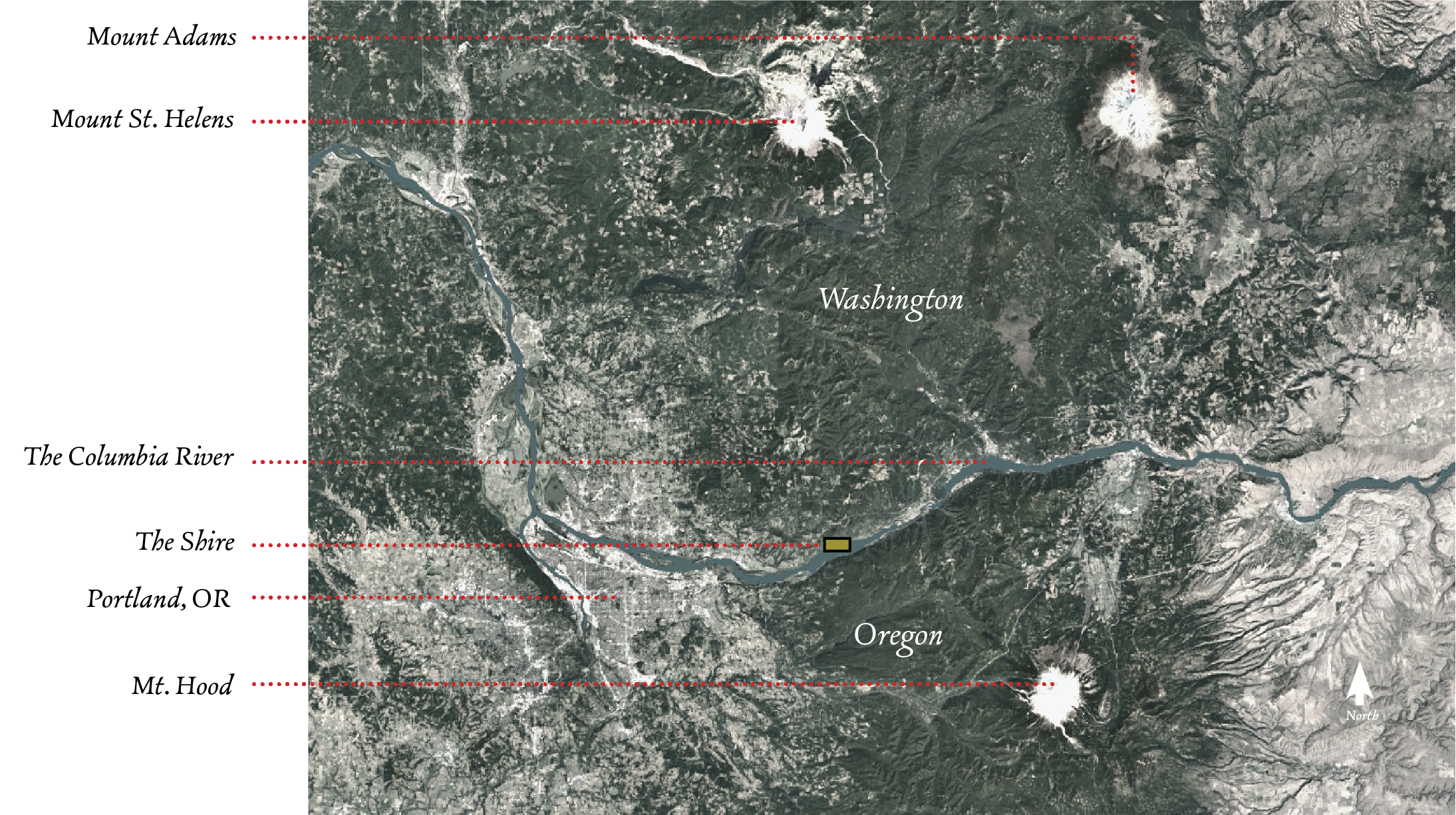 Located on the shore of the Columbia River in Washington, the Shire sits below the last of 14 damns on the river. Although the river is a highly controlled, it still fluctuates from season to season and floods the site regularly.
Most of the site sits within the river floodplain. The floodplain channel appears as multiple creeks that have day-lighted from beneath the toes of the historic landslides. During the dry summer months, the river's edge recedes exposing land.
The goal of this project is to reveal the boundaries of water; the moisture gradient that exists in the landscape. To enrich the sensory experience of all by, expressing changes in level and inviting people to engage.
Currently there are no designed pathways at the Shire that can serve the experience of us all. I am proposing this institutionally owned landscape be made more inclusive to those those who may be differently-abled.
The floating dock on the Columbia River will rise and fall with the River during the seasons. The timing of the year and height of water will determine how the dock may be experienced. There is the opportunity to get your feet wet and move along next to the historic pilings, remnants of the past logging industry.
In the tradition of hosting dinners on the lawn, this place can now be a place experienced by all. Access is located via a path that transitions from lawn fabricated with rubber mats to the basalt slab. The polished basalt at the terminus of the plank marks the 100 years flood line, is highly reflective, and will reflect the sky much like water does.
The by altering the management of the meadow from mowing to fire and promoting Camas restoration will revive a prairie wetland. This meadow is located adjacent to an Ash swale (Fraxinus latifolia) and out of highly valued views. It is a great place to be able to walk through with the introduction of a modular system that can be moved and altered to create new experiences.
The pond is habitat and home to many species. Beavers are an already established population, creating ecological communities. This built structure provides a view that one would not normally have as the structure goes out into the water, and submerges you into the landscape. This may be an ideal place for the stormier days or for animal watching.